SEO is one of the most important factors in any e-commerce site. Just because you have built a super awesome site does not mean people will come to it. This is where SEO comes in, you have to let people know about your site, you have to get the word out that your super awesome site is in business, that you are ready to take orders. Regularly checking up on the SEO progress of your site is something that I would recommend to every site owner. Even if you do not currently have any SEO campaigns running, having the insights that an SEO audit can provide can be very helpful.
As the title mentioned, this article is about how to perform an audit for free. Some of the tools we will use are paid tools with free trials. To perform the audit you just need to sign up for the trial, if you like the tool, you might consider converting to a paid subscription. Most of the tools we will feature are really awesome tools and well worth the money if you are actively trying to increase the SEO presence of your site.
There are so many facets to SEO and auditing, some of the techniques or tools we use might not be useful to your site or your market, if that is the case, just skip over them. For some demonstration purposes, we are going to use our own site and data acquired auditing it.
Let's start auditing
Moz Local Listing Checker: Free to check listing
If your business has an address you can publish and use, it is a no-brainer to start with local citations. Local citations are listings on sites like Google Places, Yellow Pages, Best of the Web, and others. Most of these sites let you create a free profile for your business and add your business information. Links from these types of sites are generally well regarded and not considered spammy at all. The only concern you need to worry about is keeping your listings consistent across all websites. This creates less confusion and sends a consistent signal to search engines.
Once you run your site through the Moz Local Listing Checker, you can click on the incomplete icon to get a list of sites you either have incomplete or no listings on. You can then start going to each of these sites and complete listings.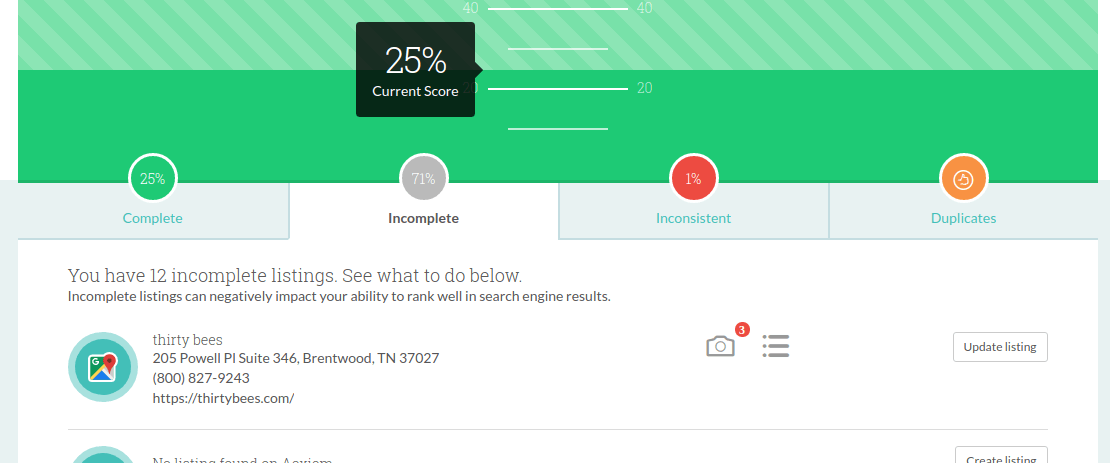 Moz Local also offers a service where you can simply fill out the listings on their site and they will keep track and monitor the listings for you. This is handy is you want a more hands-off approach and would prefer to save time.
Google Structured Data Testing Tool
Structured data is on a basic level data that is hidden from view on your website, that is targeted to search engines in a specific format. Search engines are really good at figuring out what the topic of a webpage is, but rich snippets help you to give the search engines even more information. This data can be used to give authoritative information to a search about your site or your product. Sometimes with a website, your layout and design are not conducive to having all available information on a page in a readable format. This is where you can really use structured data. In the past structured data was called rich snippets, but as the format has evolved, so has the name.
Google provides a free tool so you can check your site and make sure everything looks as it should for search engines. The points you want to see in the tool is that your products are presented correctly with as much data as possible and that your organization is presented correctly with as much data as possible. There are other structured data types that should be taken into consideration, but usually, they are not issues with e-commerce sites, so they have little importance here.
Google Structured Data Testing Tool
Raven Tools
To me, Raven Tools has the best site crawler. It is presented in a manner that shows you what is deficient and which page it is deficient on. I feel like the crawler is where Raven really excels and is a great tool for auditing your site. Raven Tools offers a 14 day trial without requiring a credit card, this should be enough to crawl your site a few time while fixing the errors that are shown for each crawl. The crawler picks up all of the basic issues with your site such as broken links, pages missing meta descriptions, images missing alt tags, and pages with too low of a word count.

Their site auditor makes it really easy to identify pages that could potentially have issues so that you can correctly address them. Raven Tools actually has a whole suite of useful SEO tools in their software, mainly based on tracking different metrics of your site. For the purposes of the site audit, we just focused on the page Crawler. While you are using the trial I would also recommend connecting your social media and Google Analytics accounts to the platform. That way you can see the true usefulness of Raven Tools and decide if it is something that you want to keep.
Majestic
Majestic is what I consider a narrow scope tool. It mainly excels with showing the link profile of your site. It is a great tool to see where your backlinks are coming from and get an estimate on about how many backlinks you have to your site. Know who is linking to your site is very important in so many ways. One great way is that you can find new places where your site or products are shared. This very valuable in discovering new sites or markets to either partner with or focus SEO efforts on. Also, if you have not ever run a link building campaign it can show you the natural spread of your links over time as well, which in itself is very interesting.

Majestic has a free account level with what they call fair usage. You do need to connect your domain to verify it, to see more in depth stats. This is pretty painless and the benefits outweigh the time it takes to connect ten-fold. With the fair usage account, you can only see a limited number of pages a day, but over a few days, you can get a really insightful picture into how your site is being linked around the internet. With this tool, the main reason to considering going to a paid tool, is that you can research your competitors sites. In doing this you can find opportunities to create links on the same sites they have created links. It also gives you an idea into their marketing strategies as well.
GTmetrix
Every SEO audit needs a speed checkup. In any website speed is an important point to consider, but especially with e-commerce sites. Google has stated that speed is a ranking factor in their desktop search. Today they also stated that mid 2018 that they are making speed a ranking factor in their mobile search as well. They have dubbed it the "Speed Update". This shows the importance of site speed in relation to SEO.
There are many different testing tools on the market, Pingdom, WebPage Test, Google PageSpeed Insights, but the reason I choose GTmetrix is because I believe it is the best all-around speed testing platform. Unlike PageSpeed insights it shows the raw site load time and gives more actionable insights of what you need to fix with your website. It also supports multiple locations and has mobile browser support as well, which as we mentioned earlier is becoming a ranking factor in July of 2018.

SEOrch.eu
SEOrch is a tool I have been using for several years now with SEO audits. It audits a single page on your website and will give you insights as to how that page is seen by search engines. It produces a pretty thorough on-site audit of the page that you enter, showing the meta description, information on link title attributes, image alt tags, keyword targeting, and many more factors. All great points for on-site seo.
Even though SEOrch only audits one page at a time, it is a very useful tool in viewing your on-site SEO. One of my favorite features of the SEOrch is that it lists your heading tags. While your heading tags do not have a huge effect on the overall SEO of a page, organizing them does. Having your tags in a logical order gives search engines a more clear intent of your page. Combine this with most sites being templated based, generally you only have to fix a few templates to get your heading tags in the correct order.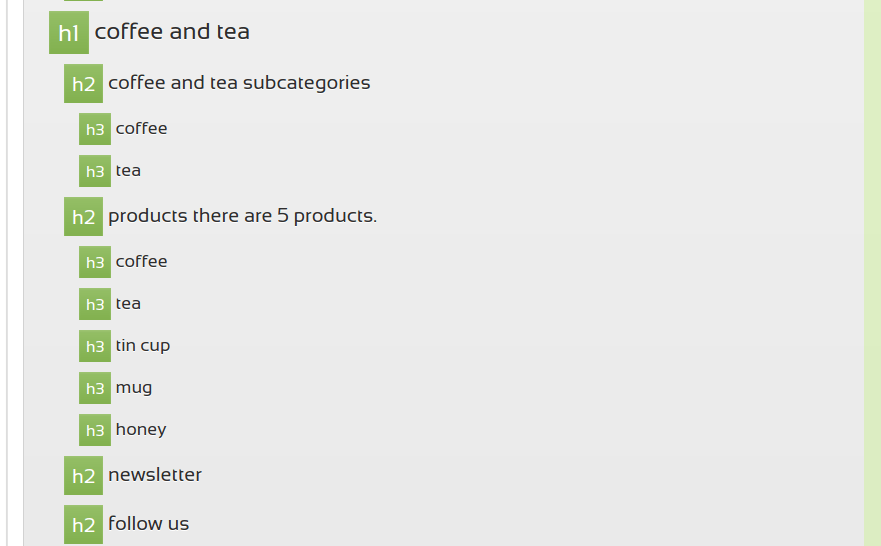 Rank Ranger
Rank Ranger is a tool I have used for several years to measure the performance of websites in the search engine results pages (SERPS). Rank Ranger is a simple tool, with a simple purpose, it measures your site's ranking. It has a 14-day free trial you can use to see exactly where you stand in the search engines. One great feature about rank ranger is that it will also allow you to track your competitor's positions in the search engines as well. From this, you can discern what keywords they are ranking for and which keywords you might be able to over take easily. This information is very valuable when you are considering to start an SEO campaign for your site. You can pick the low hanging keywords as a starting place to overtake your competitors.
Conclusion
SEO is an important part of any site, especially now with every one of your competitors spending time trying to better their SEO. Using the tools I listed in this article you can gain a clearer insight into how your site is performing and figure out where it is deficient. This gives you the ability to correct issues to get your site performing better. Who couldn't use higher rankings and more sales?
There are several "SEO audit" tools on the market that provide little or no value. A simple Google search can find tons of these tools that provide a meaningless audit and require you to enter your email address, so they can sell you something later. With that being the case, that is why I decided to write this article. Every one of the tools I mentioned in this post I use. I have used for years, and found the value in them. Some of them only have one or two valuable areas, but the areas that are valuable excel over other tools in the market. Good luck, and Happy SEO'ing.